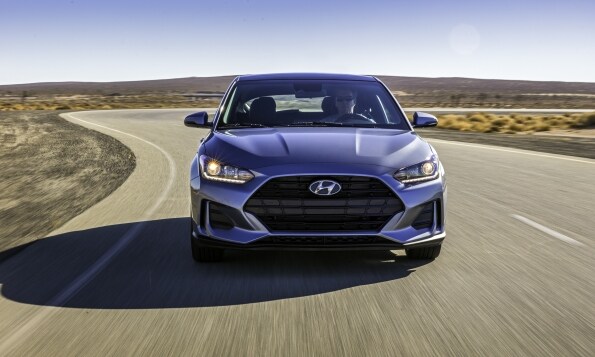 In 2019 the Hyundai Veloster stays just as unique as always. It keeps its charming asymmetrical two-plus-one door body style configuration even with its all-new design. A wide range of new improvements on the interior and exterior have been added to showcase a more pronounced technological functionality and powertrain capability. Standard across the board, you can find a multi-link rear suspension.
What are some of the biggest design changes?
The 2019 Veloster has come with a wide range of updates and changes to appearance. Some of these include an additional passenger side rear-door for an easier access to the rear seat, while others include the new LED headlights and LED daylight running lights for higher visibility at night. To improve upon the aerodynamics, the 2019 Veloster has also added a cascade grille shape with functional air curtains. For a more powerful look, this vehicle has also added higher-volume fenders and wheel arches to give it a sturdier style. These new wheel arches are fitted with 18-inch alloy wheels too. Topping it off, the Veloster is now capable of adding a fully darkened roof treatment paired with a glass hatch and center fascia chrome exhaust tips.
What has been updated or changed for the interior?
The Hyundai Veloster is very driver focused with the entire layout working to best benefit the person behind the wheel. This makes for an extremely comfortable and relaxing drive. On top of this, the various trim options also come in different colors, accents, and materials to bring a bit more customization and flavor into the vehicle. This vehicle also comes with 19.9 cubic feet of cargo capacity in the rear of the back seat! Some of the most exciting included technologies would be the Qi wireless charging capability and the "Eyes Free" Siri integration.
Which engines could be found under the hood?
With the 2019 Hyundai Veloster, you are sure to find either a 2-liter NU engine or a 1.6-liter turbocharged GAMMA engine. With the NU engine, you will find up to 147 horsepower and 132 lb-ft of torque. This is also paired with variable induction, electronic throttle control, and dual continuously variable valve timing. The second engine, the GAMMA, comes with 201 horsepower and 202 lb-ft of torque output. A few of the additional options would be the choice of a six-speed manual transmission or a seven-speed dual clutch transmission. In addition to this, you could also find three selectable driving modes for extra control.
What could be found for safety and driving aids?
In the 2019 model year, you are bound to find a wide variety of new technology for a smarter and safer vehicle. Some of these new features would include the lane keeping assist, driver attention warning, forward collision avoidance assist, high beam assist, blind spot collision warning, and so much more. The Veloster also comes with a Vehicle Stability Management system that provides motor-drive power steering and electronic stability control.
If you would like to learn more about the 2019 Veloster, please give us a call. We are constantly keeping up to date on all of the latest releases and would love to help you keep informed as well. We can also let you know as soon as the new 2019 Hyundai Velosters have entered our lot and are available in our inventory for test drives and a full tour of the vehicle, inside and out.